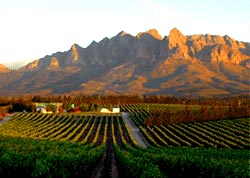 Exclusive Escapes aims to bring you that idyllic getaway destination at prices that are affordable. We want our guests to experience a 'once in a lifetime' encounter with the South African environment where exquisite luxury and a relentless attention to detail are at the heart of the experience. With elegant, colonial style houses for hire in a Private Wildlife Estate in the heart of South Africa's safari region and a luxurious Guest Lodge set amongst vineyards and spectacular mountain scenery in the Cape Winelands, we keep the experience intimate, friendly and with 'home from home' comforts.
At a time when accommodation prices have made many of South Africa's top destinations inaccessible to so many, Exclusive Escapes are determined to provide wonderful value retreats, without compromising on quality.
Whether you are on holiday in South Africa, looking for a relaxing weekend retreat, planning a wedding or conference, or just looking for somewhere to rest and enjoy a relaxing glass of wine from our vineyard, you will be made most welcome at an Exclusive Escapes establishment.